JOYUSING V500 Visual Presenter, 8 MP Document Camera and Scanner HDMI, VGA,USB
Processing
1-2 Business Days
Regular Price
$225.94
Special Price
$203.35
Description
The Joyusing V500 Document Camera is the ideal device to complement your presentation, capturing documents, objects, and
More details
JOYUSING V500 Visual Presenter
A visual presenter can transform real objects such as documents and images into the electronic image and has the ability to output it to a projector and such professional imaging equipment.
Based on CMOS technology, this modern document scanner is a trendsetter replacing traditional medium of physical file display over the screen. The revolutionary product by JoyUsing offers many advanced controls including the real-time view of documents for making most out of this technological device.
It is becoming a must-have product for modern professionals who use it for a day to day file discussions, showcasing 3d objects, performance evaluation and has become a pivotal component for any meeting. It's suitable for the corporate audience especially used for educational training and teleconferencing. Nonetheless, the medical industry and government organizations are on the rise for putting V-500 to use.
The blazing fast technology offers high-speed signal transmission allowing no on-screen disturbance and a smooth real-time experience every time. JoyUsing specializes in being fast, accurate and efficient, thus gets the job done.
The integrated display and presenter system allows V-500 to annotate scanned images, instantly save them and is even capable of post-processing. You have multiple execution programs to handle every kind of task. From scanning, split comparing of documents, video recording, PC display to annotating the display without PC using V-500 built-in system. So all in all Joy Using has got you covered for live displays and presentations as well as offline operations.
NOTE: V500 is compatible with Mac computer. Download software by clicking on this link:
Visualizer_V1.0_2020.04.02 Mac .pkg
Smart portability design

11 high brightness LED lights

Equipped an IR remote control, simple operation buttons

Roaming drag, marquee zoom, zoom in or out local live image

Multi-mode PIP split screen contrast function

Rich image processing functions

Support for macro shooting

Support SD card storage

Support HDMI, VGA & DVI video outputs

High image quality, support 1080P HD video recording

Built-in professional visual presenter application software

Support direct connect monitors, projectors and interactive whiteboard, etc.

Support off-line touch screen operation, mouse or wireless tablet operation

Support off-line / on-line operation, the new instant annotation function

Support Window XP / Vista / Win 7 / Win 8 / Win 10

Support installation Without CD-ROM



100% Full HD Display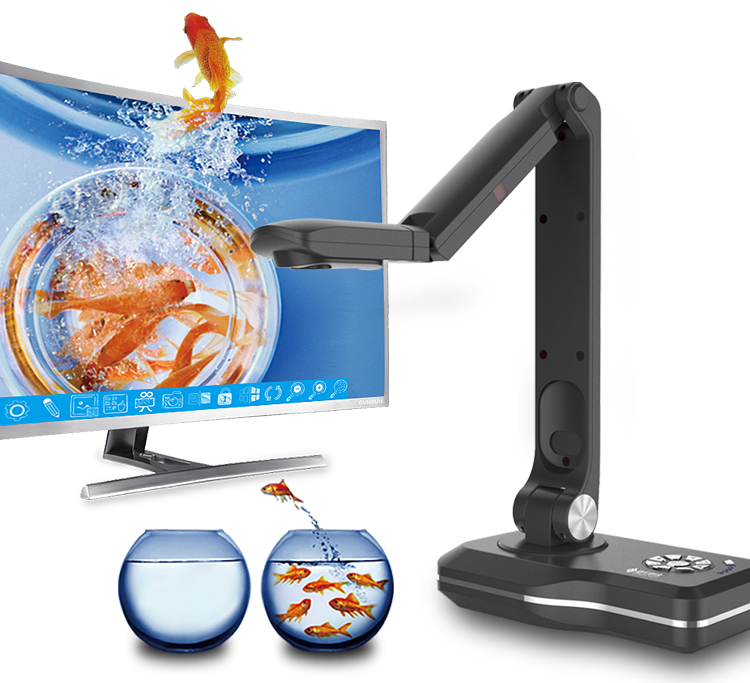 JoyUsing V-500 offers industrial grade CMOS and premium ISP image processing technology. You don't have to worry about delays or larger than life images, you get crystal clear and razor sharp displays every time. HD display in 1080p in RGB true color is possible with this innovative product.
Flexible Multi-Joint
Any angle could potentially be an important detail. JoyUsing has added five joints in two arms, making it super flexible to take close-up to full shots. So it's equally good if you want to take full room shots from any angle or just a close-up with digital zoom to capture a specific detail.
Functional Physical Buttons
The remote control is provided for a smooth demonstration. But when you are focused at a project and in "making things happen" mode, we want you to focus on what's important. So anyone can instantly access the physical buttons for a convenient user experience.
Built-in PC-free Software
A document scanner and camera is of minimal use without advance aided functions. What good is a visual presenter if you still have to use PC for making it all work?
Keeping the needs in view, JoyUsing V-500 comes with auto-focus, magnifying, mirroring, annotating and more of such capabilities. With a mouse, touch screen and tablet, you get to experience a new generation of technology.
Compatible With Interactive Flat Panel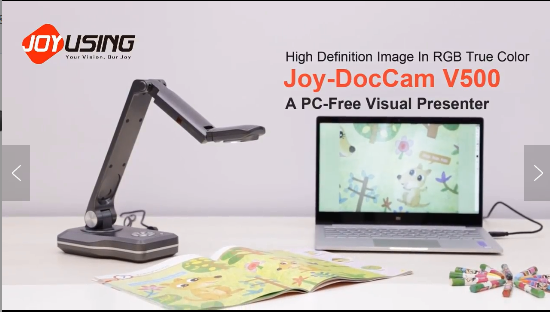 You can instantly connect to any flat touch screen and use the controls directly through the flat panel screen. Four-point calibration is used for tighter control, efficient and smooth response.
Built-in Mic
Providing a one-click record with built-in microphone to capture slightest of important details.
Generic Interfaces - VGA & HDMI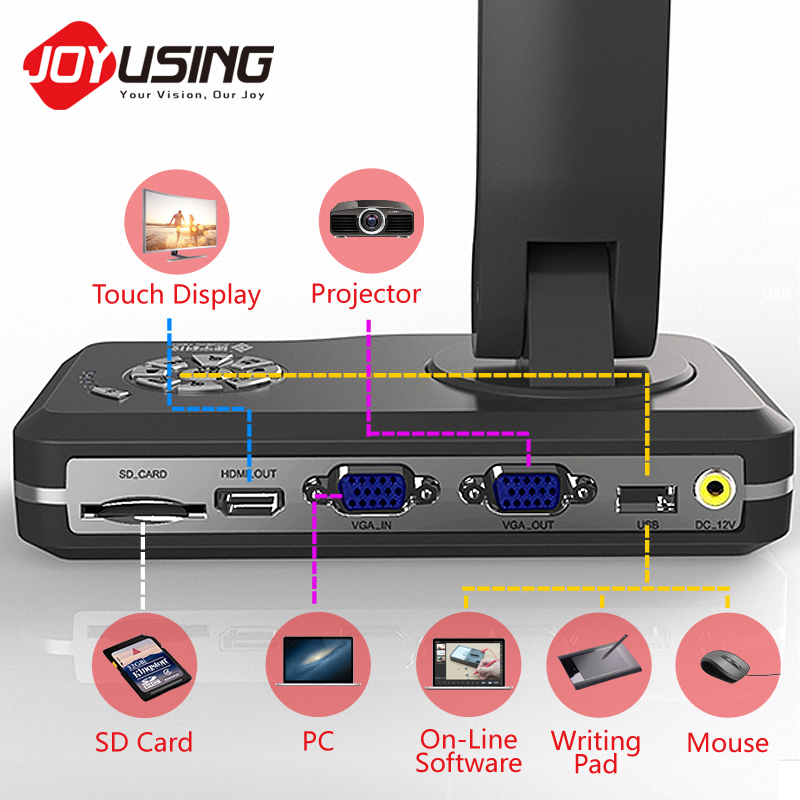 SD Card / USB ports / VGA IN&OUT / Compatible With HDMI
Using these display terminals is pretty straight-forward, even for a beginner.
More about JOYUSING V-500
JoyUsing is a compact visual scanner that is perfect for classrooms, helps in fast scanning with compact design and greater aesthetic appeal. It has advance & multiple execution controls built-in. V-500 cherishes optical zoom simulation technology at 30 frames per second in 1080P HD high speed video mode, thereby integrating rich off line display function, like frame magnifying, image freezing, rotating, mirror, contrast, picture-in-picture, etc.

Marquee Zoom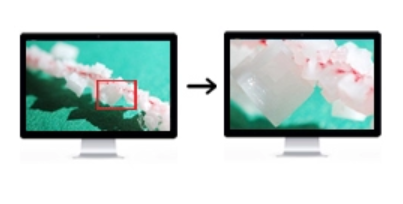 Image Roaming Drag Region Zoom In
Picture-in-Picture
Mirror Function
Split Screen Function
Annotation and Edit Feature
Multiple Files Organized for Post-processing
Videos / Images With Audio Data Saving Feature
Pixel: 8.0 Mp ( 2591 x 1944 )

Light Source: 11 LED with softbox

Digital Zoom: X100

Mage Sensor: 1/4" CMOS

Focus: Auto

Frame Rate: 15fps@1920×1080

Scanning Area: Nearly A3

SNR: ≥45dB

Distortion: ≤1%

Video Signals: RGB24

Audio: built-in microphone

Interface: VGA / HDMI / USB

Power Supply: DC12V 1A

Product Size: W185 x D115 x H320

Product Weight: 1045g
V-500 Document Camera/Scanner/Visualizer
AC adapter
Remote Control
USB adapter
VGA adapter
HDMi Adapter
No
No
Videos