UNIROI Smart Robot Car Kit (Arduino UNO R3)
Processing
1 - 2 Business days
Description
This Smart Car Kit for Arduino UNO R3 is a great platform to get started with robots. It provides multiple parts, instr
More details
UNIROI is a DIY Smart Robot Car Kit to learn Arduino, provides a great platform to develop your coding skills and helps complete a variety of interesting experiments.The Robot Car Kit features easy assembly, requires no welding, and it comes with detailed tutorials (includes video instructions, schematic diagram and source code). It is designed for both beginners and professionals to learn about electronics, programming and robotics. It features two modes of operation : Infrared Remote and Mobile Phone App (Supports Android Only). The UNIROI Smart Robot Car kit features an Infrared Tracking Module, (follows any object in front of it) and Infrared Line Tracking Module (follows a line).
4 Wheel Smart Robot Car Kit: Free tutorials, diagrams, source code and video instructions are supplied with the purchase.
Easy to Assemble: Comes with sockets for sensors and an advanced chassis design with direct charging interface. So you don't have to worry much about wires.
Arduino UNO: An extended pin interface is specially given, so that you can only solder pins to develop your own robot car kit.
3 Different Functions: Obstacle Avoidance, Infrared Tracking and Line Following
2 Control Modes: Android Mobile App and Infrared Remote
Premium Quality Wheels: designed for supreme driving, has flexible inner tube for improved car stability.

Two Modes of Operation
1. Infrared Remote
2. Mobile Phone App ( Supports Android only)

Infrared Line Tracking Module
The car can run over a line, has the ability to detect and keep track of line via infrared.
Infrared Tracking
The car comes with a infrared tracking module, so it has the capacity to follow any object in front of it.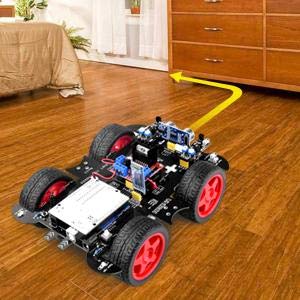 Infrared and Ultrasonic Obstacle Avoidance
The car's infrared flash will avoid all the obstacles in front of it, by detecting the objects at a distance and avoiding it.
Arduino UNO R3 Board
Works flawlessly with Arduino IDE (Integrated Development Environment). So you can make different do-it-yourself functions in the source code. 100% compatible.
Directly Charging Function
You can directly charge the robot car battery with a 8.4V charger and it comes with the robot car as well. Just plug DC socket on the car chassis and you're ready to go. Batteries should only be removed when need to be exchanged. 2 pieces of new 3.7v batteries are included.
Extended Pin Interface
For Arduino UNO, the chassis comes with an extended pin interface. So you can build your very own robot car kit and you will only have to solder the pins to get started. Convenience at its best!

High Quality Wheels with Inner Tube
Highly durable and strong-built wheels includes an inner tube to deliver a smooth and stable ride, for it to last the longest of time.
Charging Functions
Red indicator reflects charging whereas green indicator means the batteries are fully charged. It takes about 1 hour for a complete charge.
Battery: 2 pieces, 3.7V, 900mAh, 6.66Wh (Batteries not included)
Robot Car Diameter: 215*150*90mm
Weight: 500g
1 x Arduino UNO Controller Board
1 x Ultrasonic Module
4 x Reduction motor
1 x Infrared Remote Controller
2 x Infrared Tracking Module
2 x Infrared Obstacle Avoidance Module
1 x Robot Car Chassis
1 x L298N Motor Driver Module
4 x Wheel
1 x 8.4V Charger
1 x Battery Box
2 x 3.7V Battery
1 x USB Data Cable
2 x 3 Pin DuPont Wire 2.5cm
2 x 2.0 Leadwire 50mm
1 x 2.5 Leadwire 50mm
1 x Cross Screwdriver
1 x Small Cross Screwdriver
4 x 25mm Copper Pillar
4 x 10mm Copper Pillar
20 x M3*6 Screw
8 x M3*25 Screw
2 x M3*6 Countersunk Screw
12 x M3 Nut
1 x CD with Code
1 x Plastic Storage Box
No
No
Videos