JOYUSING Visual Presenter V500-S - 8MP Document Camera with Auto-focus - Upgraded Version
Processing
1-2 business days
Regular Price
$132.27
Special Price
$87.64
Description
The Upgraded Joyusing V500-S Document Camera is the ideal device to complement your presentation, capturing documents, o
More details
JOYUSING V500-S Visual Presenter Upgraded Version(2021)
A visualizer, portable document scanner, document camera are all the names of the same product. It has the capability to transform physical documents/images into electronic signals, thus outputting it to a projector and imaging equipment.
8MP High-quality Image and Amazing Coverage
SONY 1/3.2" CMOS sensor. High definition resolutions up to 3256 x 2440 for perfect details capturing. The massive shooting area of 16.75" × 11.7" and 100x digital zoom allow you to capture and share any large documents and objects like never before.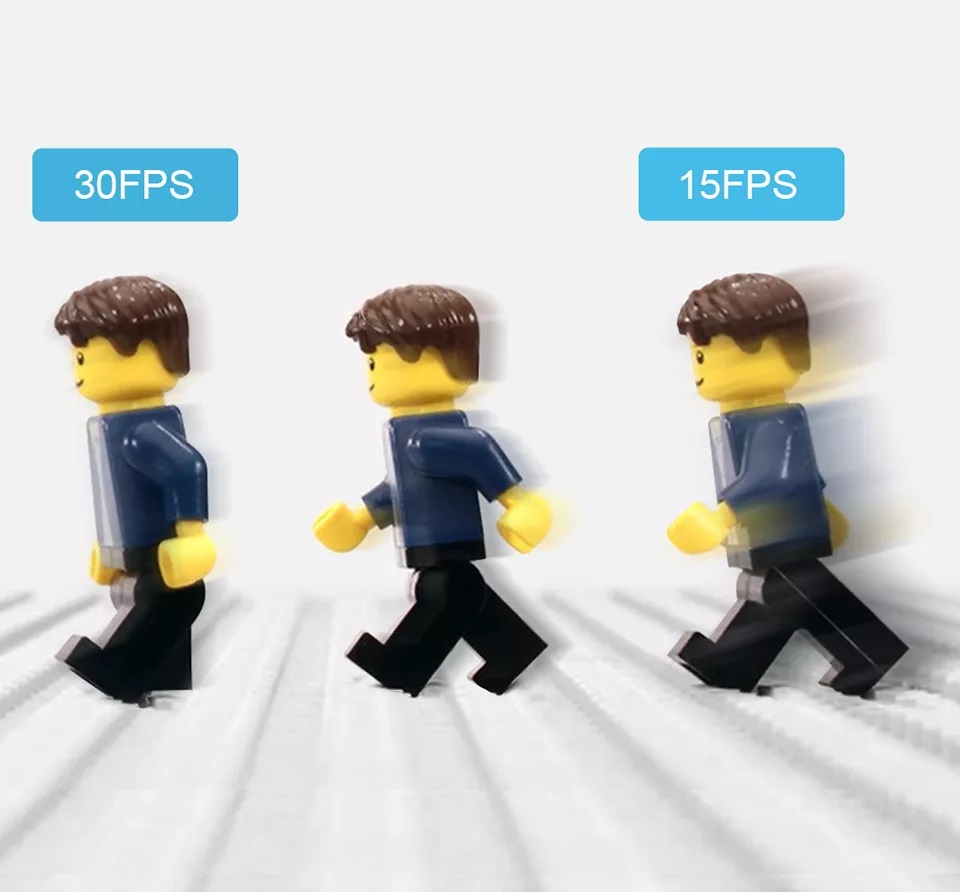 Enjoy Silky-smooth Live Streaming 30FPS at 1080P Resolution
High frame rates at Full HD will optimize your experience in viewing dynamic images and live streaming.
2-in-1 Document Camera and Webcam
Easy to flip the head of V500S usb doc camera to switch back and forth between document sharing and "face to face" video conferencing. Also, it is a kind of the best document camera for teachers, especially on distance learning.
Flexible Design and Multi-joints to Adjust
The rotatable camera head makes it possible to adjust quickly and capture your content from different heights, angles, and orientations. Highly adjustable of multi-joints allow you to display 2D and 3D Objects in a flipped classroom and blended classroom.
Joy-DocCam series of visualizers are modern document scanners and is setting new trend for everyone to follow. Given the controls and features, it seems to provide simple and powerful solutions to most pressing corporate problems.
The modern era is moving towards hassle-free solutions and such is this visual presenter. It takes the pain away from everyday corporate meetings and classrooms for managing mundane tasks. So that you can do what's important and let JoyCam V-500S take care of managing the rest.
Mostly used for educational training and teleconferencing. However, medical professionals and government organizations seem to be on the rise for using this doc scanner.
High-speed signal transmissions allow flicker-free, disturbance-free and a smooth real-time doc / vid / file viewing experience every time. JoyUsing specializes in being fast, accurate and efficient, thus gets the job done.
Behind every machine success are the components. In case of V-500S, it has many including a whopping 8.0 MP camera with autofocus capable of 720p video. Talk about lights and you get 11 highly-bright LED lights, a highly durable built-in microphone and an adjustable frame with rotating head. You get amazing software features from picture-in-picture screen split solutions to annotations and numerous post-processing options. Together, it makes V-500S stand out for a classroom, boardroom and conference room.
UPGRADED V500S & Old Version V500S Comparison:
Sensor Size:
Upgraded V500S: 1/3.2" CMOS
Old Version V500S: 1/4 " CMOS
Higher Frame Rate:
Upgraded V500S: 30 FPS
Old Version V500S: 25 FPS
Less Noise:
Upgraded V500S: Better
Old Version V500S: Normal
Wider FOV:
Upgraded V500S: 77
Old Version V500S: 75

NOTE: V500S is compatible with Mac computers. But please note that this Camera doesn't support latest MacBook M1 version.
Download software by clicking on this link: Download
Upgraded Features:
Sensor Size: 1/3.2" CMOS
Higher Frame Rate: 30 FPS
Lesser Noise
Wider FOV: 77

Smart portability design

Flexible rotating mechanism, Capture image from any angle

11 high brightness LED lights

Roaming drag, marquee zoom, zoom in or out local live image

Rich image processing functions

Support for macro shooting

Support USB video outputs

Latest instant annotation functionOCR text recognition function

Multi-mode PIP split screen contrast function

High image quality, support 1080P HD video recording

Professional visual presenter application software

Support Window XP / Vista / Win 7 / Win 8 / Win 10 and MAC

Please note that this Camera doesn't support latest MacBook M1 version

Support installation Without CD-ROM



Smart Light Balancing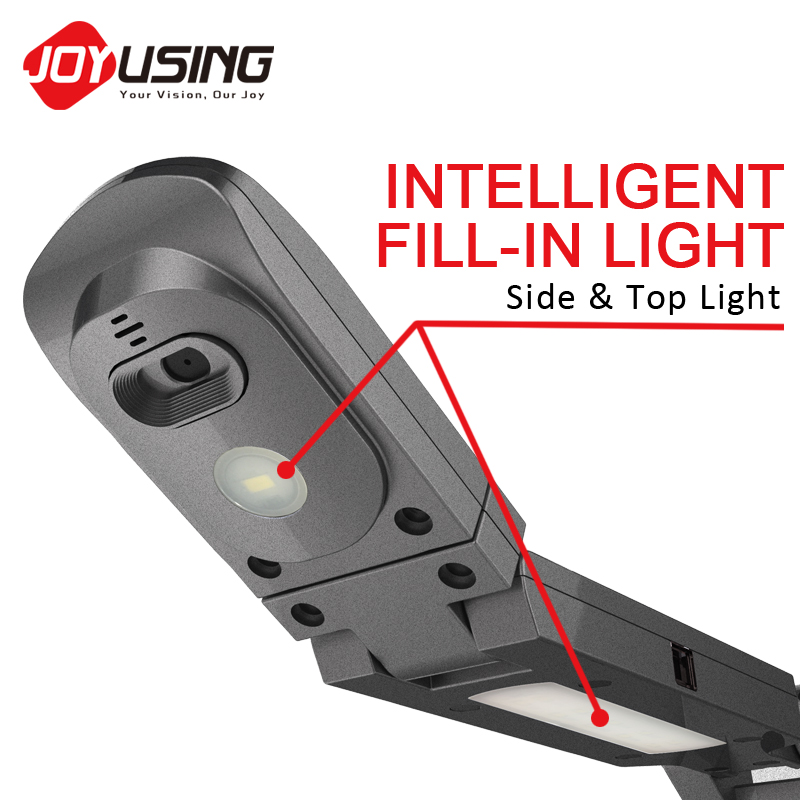 No more shadows, the smart lighting system takes care brightness levels by automatically compensating for side and top light. The touch controls for dimming lights make it fit for all situations. The diffuser can make light softer yet bright enough to not dazzle and still reduce the reflection for better imaging experience.
Auto-focus Camera & Stabilization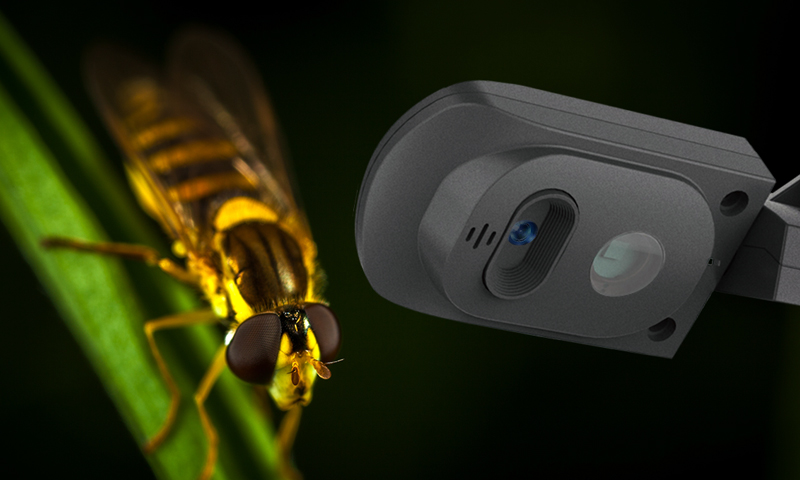 The auto-focus offers smart stabilization with rapid imaging using the 8 MP HD CMOS. Auto-focusing helps to preserve details at a fraction of second, removing the extra noise from the creative scene.
Micro & Macro - Close-up View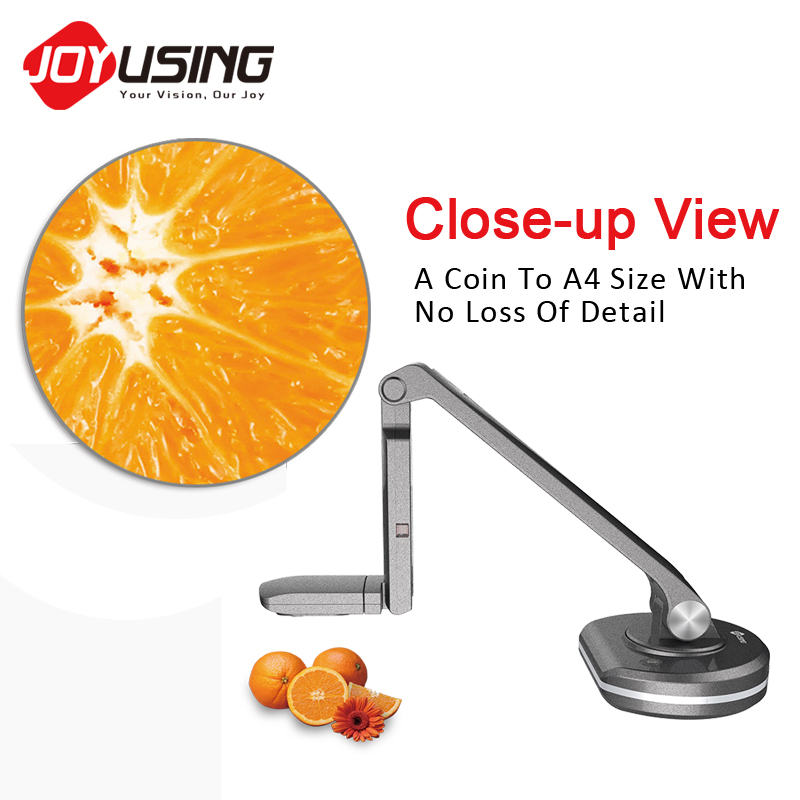 Instant close-up view is made possible through use of flexible multi-joint design, providing both aesthetics and ergonomics to adapt. Adapt to changing physical requirements, be it scanning a coin or an A4 page while preserving razor sharp imaging.
Portability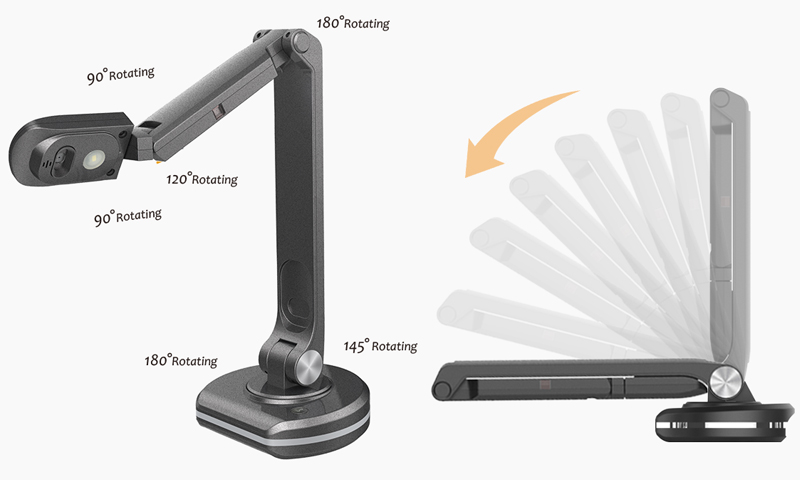 Visualizers come in all different range of features but rarely do a product is so durable yet so portable. The rotatable HD camera could be stretched to work with A3 size, so portability doesn't compromise on functionality.
Versatile Visualizers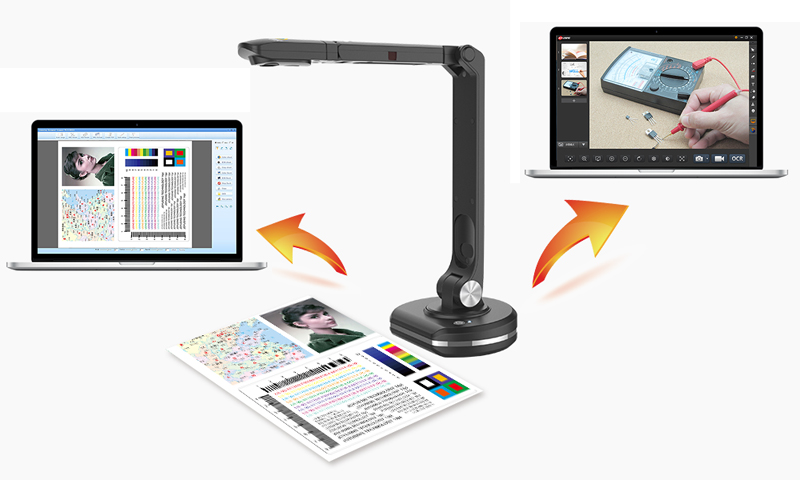 Joy-DocCam V500s is primarily a visual presenter for education. Though, it can do more than just that. Using provided software Joy-ScanAssist, it can also function as a perfect document scanner of any office.
8.0 Megapixel camera
Ultra high definition resolutions up to 1080P
Autofocus lens
Up to 30 fps live video capture (at full HD)
USB 2.0 Video Class (UVC) interface
Max shooting area: 16.53" x 11.69" (420 x 297mm)
LxWxH (when folded): 5.51" x 12.68" x 3.15" (140 x 322 x 80mm)
Weight: 1.98lbs (900g)
USB cable length: 4.90ft (150cm)
Color: Black
V500-S Document Camera
USB Cable
Soft Pad
CD
Instruction Manual
No
Is it competable with iMac or Chromebook systems?
Yes, it has instant connection to iMac or Chromebook through a USB cable. And you can go to the company website to download the respective software.

Will this product work with a Chromebook?
Yes. Please go to www.joyusing.com and click "Support - Download" to select the Software and Driver for Chromebook

Does this document camera have a microphone?
It doesn't have a built-in microphone. It uses the microphone in your computer.

What is the output format?
Picture format: png, jpeg,tiff, bmp
Video format: mp4, flv, avi, mov

What is the largest size document it will scan?
It can be adjusted to capture the size of A3, that is, 6.5" x 12.4" or 297mm×420mm.

Will it project live for online meeting resource use?
Yes, our device is compatible with all the leading communication apps, such as Zoom, Skype and GoToMeeting, etc.
Videos